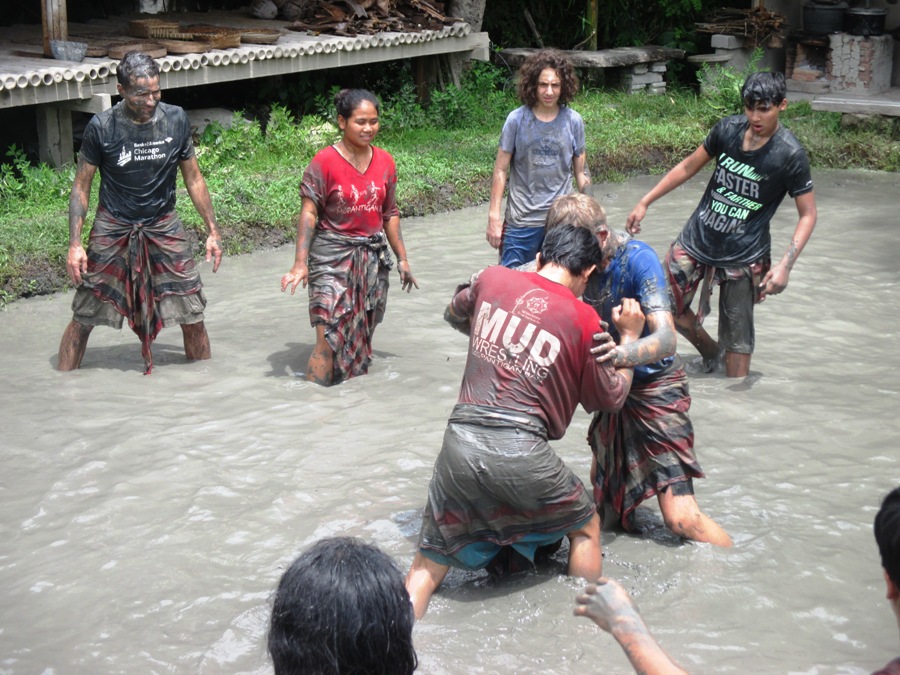 Location
Batubulan, Gianyar, Bali-Indonesia
Style
Martial Art,Tradition,Culture, Sport, Family
Overview
There are many kinds of martial arts in Indonesia, and so does in Bali. Lately, besides the Pencak Silat, there is a traditional martial art developed in Bali. It is called "Mepantigan". Basically, mepantigan means to throw or to knock something down. The traditional martial art concentrates on locking and throwing the enemy. It combines some self-defenses, such as taekwondo, silat, capoeira, kickboxing, and judo, and includes various elements of Balinese culture, such as Balinese music, dance, and costumes. Those are the factors that make this self defending martial art a hauling sport, and it has now been prepared as one of the most attractive and interesting Bali tourism attraction.
Tour Itinerary
Our driver will pick you up from your lobby hotel with full air conditioner transportation and drive you directly to Batubulan village.
Balinese Mud Classic and Authentic Program "Mepantigan", Include welcome dance "Klaras Mepantigan" and drink holly water goddess of the rice,bamboo cups plus Balinese cakes.
Participants will use Tridatu Sarongs,( 3 coloured sarong Red, Black and White) and Respect to Ida Bhatari Shri (Goddess of the Rice).
Continue with "Kecak Kecos " dance, interactive dance with all participant, combination of kendang,jimbe,mask,puppet,and dancing bamboo.
Activity under the Coconut Trees, Introduction and warming up exercise before going to the mud.Spirit of Mepantigan, body painting, strength and balance with horse and kiss a duck.
Mud-pit; Wow… Mepantigan! Exciting holly mud mystery, mud classic games such as frog catching,duck love and mud horse. "Ceretan" drinking with Balinese made clay jugs, eel catching in the rice field etc.
River Paddy, Wash all mud off in the river, Belig yoga massage together in the river.
Pancoran, Shower in Balinese showers covered in Banana Leaves. Feel like a real Balinese.
Dinner, Nasi Lumpur… Organic Mud Rice with classic food. Accompanied by Mepantigan Balinese Ethnic Music.
Then transfer back to your hotel.
Price Only:
Adult USD 85/person
Children (7-12 years) USD 50/person
Inclusion:
Full AC hotel transfer, Professional crew, All safety Equipment, Indonesian set menu Lunch.
Daily Pick-up Times:
| | | | | |
| --- | --- | --- | --- | --- |
| TRIP | Nusa Dua-Jimbaran | Kuta | Sanur | Ubud |
| Morning | 07.30 am | 08.00 am | 08.30 am | 09.00 am |
What To Bring :
Comfortable clothes, Sunscreen, Changing clothes, Extra money, Camera and spirit of adventure.
---
"Please do not hesitate to contact us if the information that we provide is not clear."