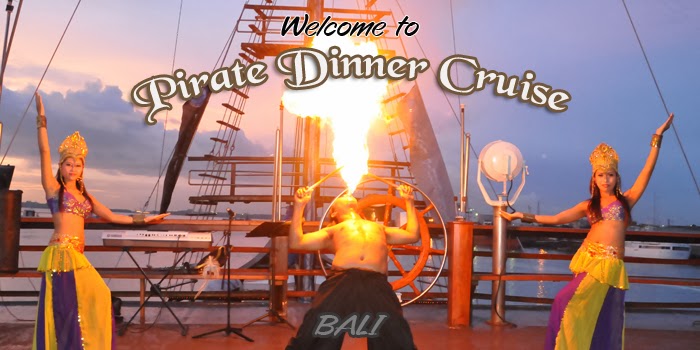 Location
Benoa Harbour, Bali-Indonesia
Overview
Enjoy your dinner with beautiful sunset view on the sea. Play games with the crew of pirates. It will be a wonderful atmosphere for you, spend your nights on the sea wearing pirates costumes, having wonderful dinner and enjoy the sunset. Savor the fresh night breeze on the top deck as the night flows by while getting entertained by live music and exotic dancers. With all the excitement involved, you will also enjoy a delicious dinner under the bright moonlight.
Just here you will get a memorable experience dinner cruise with pirates in Bali at Sea Safari Cruises.
Itinerary
Check in (welcome drink, slayer pirate, watching safety procedure &
boarding pass is given)
Boarding
Boat Departure
Entertainment (live music & Belly Dance)
Buffet Dinner
Entertainment (Live Music, OYE dance, Games with door prize,
Fire Dance & Disco Time)
Arrival
Menu
Soup of the Day
Appetizer
Dressing
Chicken Corn Soup

Caesar Salad

Potato Salad

Mix Salad

Thousand Island
Main Course
Dessert
Sauce

Steamed Rice
Indonesian Fried Rice with Ikan Teri
Assorted Steamed Vegetables
Spagetti Bolognese
Spaghetti Carbonara
Fish wish Rica – Rica Sauce
Pirate Chicken
Beef Carbonara
Beef Black pepper sauce
Prawn & Squid Kebab
Shrimp Crackers

Soft Ice Cream
Whole Fruits in Season
Slices of Fresh Fruits

Tabasco Sauce
Chilli Sauce
Tomato Sauce
Sweet & Salty Soya Sauce
Garlic & Chili Slice
Pickles
Drinks
Coffee, Tea and Drinking Iced Water
Price only :
Adult : USD 55.00/person
Children (4 years-12 years) : USD 27.50 / person
Infant : Free of Charge
Price Excludes :
Soft drink and Alcohol Beverages
What To Bring :
Comfortable outfit , Extra money if needed and the great spirit of Holiday.
Price included :
Welcome drink
Buffet Dinner
Pirates accessories souvenir
Live music
Belly Dance
Fire Dance
Variety of games with door prizes
Disco Time
Return Transfer
---
"Please do not hesitate to contact us if the information that we provide is not clear."