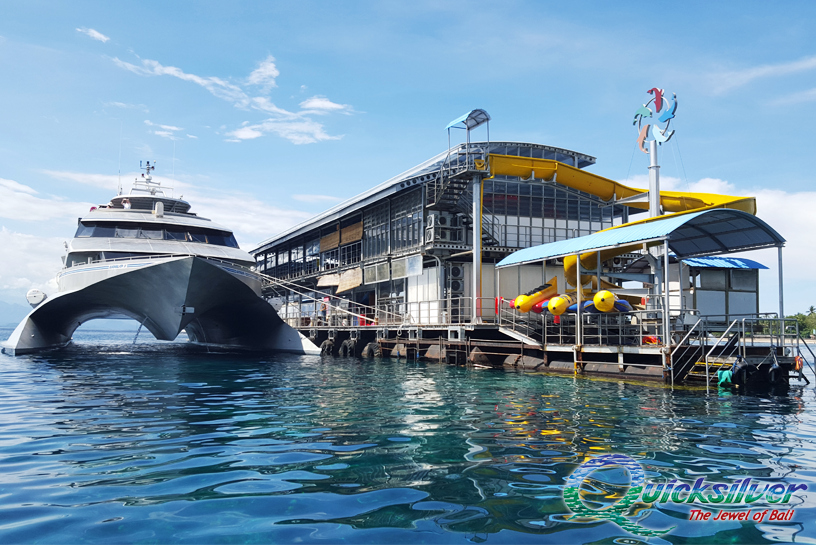 ​​​​​​​
Location
Nusa Penida, Bali-Indonesia
Style
Marine Sport, Country side, Family
Overview
The Prestigious Quicksilver Cruise will take you not only to the magnificent island of Nusa Penida, but also help you discover the incredible underwater world, and its wide spread coral garden packed with an enormous variety of marine life.
Tour Itinerary
We will pick you up at your lobby hotel in the morning, and then our transportation with full AC will take you to Tanjung Benoa Marina. Boarding time is 08.45 AM, when you arrive at our cruise ship you'll get breakfast, coffee,tea, orange juice, and pastries.
Around 09.15 AM we will depart from Tanjung Benoa Marina to Nusa Penida, our journey to Nusa Penida will take +- 60 minutes. During the cruise our personal assistance will show you life jacket demonstration, safety drill, and snorkelling demonstration in the main deck cabin.
When we arrive at the Quicksilver Pontoon at Toyapakeh Bay, you can do activities like : Subsea, Snorkeling, Banana Boat Rides, Waterslide, Ocean Water Treatment, and Village Tour. A delicious tropical buffet lunch will available at 11.30 AM until 02.00 PM on the poonton. You may have lunch and sit outside in the shaded area of our pontoon, while live band will play music as background.
A complimentary afternoon tea,coffee and snack will be available at 02.30 PM until departure. Quicksilver horn will sound to recall passengers from the beach to return to Quicksilver at 02.45 PM. A head count will be conducted, to ensure that all passengers are back on board.
Quicksilver departs Nusa Penida at 03.00 PM. Tea and coffee is taken off for safety reasons. Souvenirs counter will be on sale in Main Deck cabin. Underwater video will be switched on upstrairs in the bridge deck, you will recieve refresher towels too. And at 04.00 PM we will arrive at Tanjung Benoa.
Price only :
ADULT : USD $110/ person
CHILD (5 – 14 YEAR) :Half Price
OPTIONAL EXTRA ACTIVITIES
SCUBA DIVING
Anyone interested in doing certified or introductory dives should see our dive staffs as soon as possible. Please ask for information at the bar. No previous experience is needed. For introductory dives and this is a great opportunity for you to try this popular and exciting underwater sport. It is essential that you book early as there is a dive lecture to attend, and there are only a limited number of spaces available. The cost of dive is US$ 65.00/pax.
FISH FEEDING
Feeding fish in 5 to 7 meters deep below the sea of Nusa Penida, guide by professional diver and incluidng the equipment. Itís going to be safe, fun and easy for beginners. The cost of fish feeding is US$ 50.00/pax.
JETSKI
Pure excitement will come to you while Jet skiing with watercraft. At US$ 25.00/pax. try this wet and fun watersport while our guide will accompany you during the activity.
What to bring
Towel, hat, sunscreen, camera, swimming costume, shirt for sun protection, cash for drinks, underwater camera (available for purchase).
What is not taken or used
Soap, Shampoo, Fishing Equipment, Sharp Weapon.
Pick Up Time
Ubud & Tanah Lot : 07:00 – 07:15
Seminyak, Kerobokan, Canggu, Denpasar & Sanur : 07:30 – 07:45
Kuta, Legian, Tuban, Jimbaran & Pecatu : 07:45 – 08:00
Nusa Dua : 08:00 – 08:15
---
"Please do not hesitate to contact us if the information that we provide is not clear."