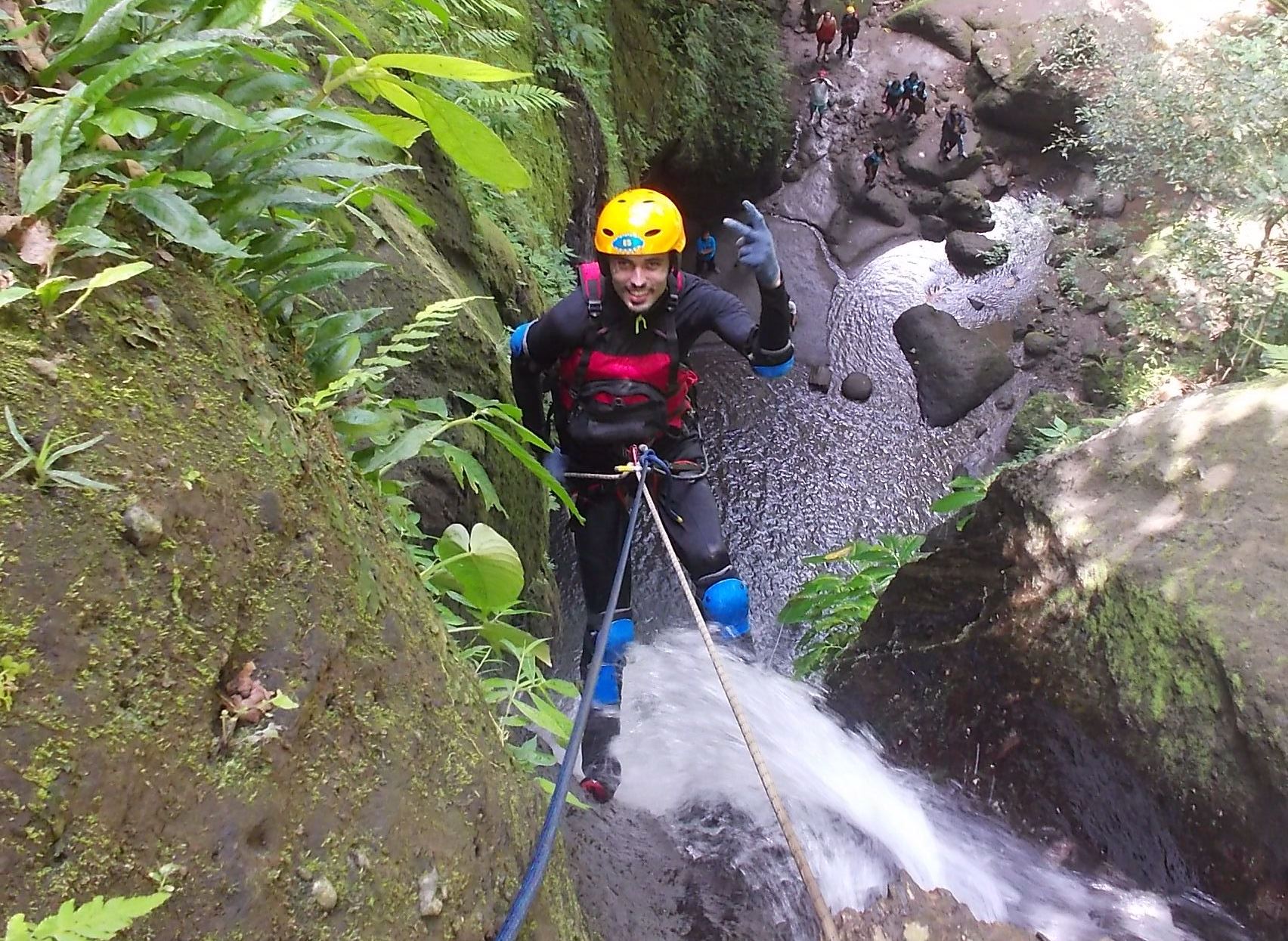 ​​​​​​​
Overview
Enjoy River Tubing with BIO on the Penet River, located in Sangeh area – approx 1 hour 20 minutes from Nusa Dua, Kuta and Sanur and only 45 minutes from Ubud. Set in a beautiful rural environment with unspoiled countryside views, you will experience an unforgettable journey, floating and riding the river for around 3.5 km, taking 1.45 – 2 hours.
Tour Itinerary
BIO offers you an awesome canyoning experience, which will test your courage and give you an incredible adventure at the same time.
We keep you safe by providing you with all the necessary safety equipment, and your experienced instructor is with you all tie time to ensure you are safe.
The challenge starts when you climb down through the 25m high gorge, situated on the banks of the Penet River. Tube down the rapids, feel the cooling waterfalls splashing your body, and take in the pristine countryside along the way.
Your Canyoning Adventure will be a continuation of river tubing or river boarding, and is sure to give you a grilling day of adventure.
Lunch is ready for your to enjoy at Bio Restaurant, which overlooks the spectacular Penet Valley.
​​​​​​​
Price only :
IDR 1.500.000 / Person (Adult)
Included on trip:
Pick up transfers from and back to hotel
Shower facilities : body shampoo& used of towel
Accident insurance cover for age 15 to 64 year old
Safety equipment / helmet , life jacket, knee/elbow/shinbone protector, skin suite, boots for canyoning and river boarding
Safety equipment, helmet, Static ropes kernmantle, Seat Harness, Carabiner & Glove
Morning Tea or Coffee
Energizer Drink After the activities
Afternoon Lunch (15 pax set menu or above 16 pax buffet )
Well Trained experienced instructor & rescuer that understand well the area
Insurance coverage USD 75,000 & Medical expenses USD 7,500.
What to wear/bring:
Sport shoes
Sunscreen is recommended
Voucher and valid payment
Pickup Time
MORNING TRIP

Nusa Dua

07.45 – 08.00 am

Kuta

08.00 – 08.15 am

Sanur

08.15 – 08.30 am

Ubud

08.30 – 08.45 am
Please do not hesitate to contact us if there information that we provide is not clear.