​​​​​​​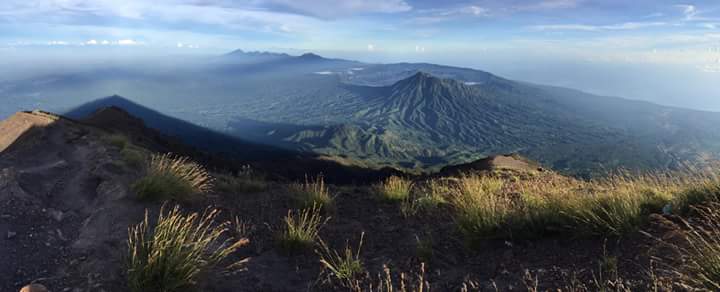 ​​​​​​​​​​​​​​
Location
Karangasem, Bali-Indonesia
Duration
Full day ( 14 – 15 Hours )
Level
High (Experience is recommended)
Overview
Our Mount Agung sunrise trekking trip will give you a once of lifetime chance to experience a holy trekking trip, on holiest mountain in Bali. We will take you to the top of MT.Agung accompanying by fresh breeze and bird singing from 2.950 meters above sea level. Start from Pasar Agung Temple (Hindu's Temple of the merchants), and see the awesome view of Besakih Temple (Hindu's mother temple). Catch the magnificent sight of the red sky when it appears during the sunlight , a beautiful sunrise from the top of mountain and wonderful scenery of Lombok island, Nusa Penida island and nearly all around Bali island While in hale mountain air.
Tour Itinerary
Our driver with full air conditioner transportation will pick you up from your lobby hotel and drive you directly to start point at Pasar Agung Temple on the slope of Mount Agung. When you arrive there, we will introduce our local guide and start to climb the volcano. Normally it's take around 8 hours up and down but it's depend on your sense of your energy. While we are waiting for the sunrise, our guide will provided light breakfast. After the sunrise, our guide will take you around and give detail information about the mountain. Then walk down to meet our driver in parking area. We will take you to our restaurant to have lunch. Finish Lunch, our driver will take you back to your hotel. Normally you will arrive at your hotel around 3 pm.
What To Bring :
Comfortable trekking clothes, Trekking shoes, Sunscreen, Extra money, Camera and spirit of adventure.
Price:
Only USD 110/person min. 2 person
Inclusion:
AC transportation, Trekking guide, Entrance fee, Flash Light, Rain coat, Mineral Water, Light breakfast, lunch and Insurance.
Please do not hesitate to contact us if there information that we provide is not clear.