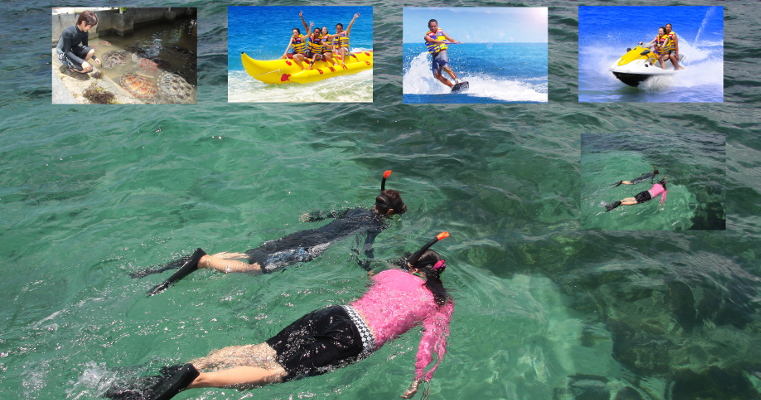 Location
Tanjung Benoa, Bali-Indonesia
Overview
Pandan Sari Water Sport is a water sport company in Tanjung Benoa with a variety of activities such as Walker, Scuba Diving, Parasailing, Banana Boat, Snorkeling, Scuba Diving etc. Pandan Sari Water Sport located at Tanjung Benoa only 10 minutes away from Nusa Dua Resort, 25 minutes from kuta and more less than 45 minutes away from Sanur. Tanjung Benoa Beach has long been well known and has become the mean tourist destination with is clean white sand and they can relax.
We aim to supply excellent fivestar scuba diving water and sports facilities, services and equipment to the guests within ecofriendly and a protected environment. Our target markets include families, sophisticated guests, VIP's, water sports enthusiasts, corporate outings and five star hotels and resorts. Pandan Sari Water Sport provides our the customers with only the highest levels of service. Our staff undergo rigorous training programs and hold the appropriate certifications and licenses where applicable.
We offer you a broad range of water-based activities to fulfill your all desires in enjoying the marina life. Experience the beauty also our professional packages & services.
PARASAILING
You will use the parachute umbrella and pulled by speed boat surrounding Tanjung Benoa with a duration of approximately 5 minutes on the air. Length of rope that connects between the parachute and the speed boat approximately 80 meters. Parasailing is one of water activities that is the most demand by tourists in Tanjung Benoa.
JET SKI
You will drive a vehicle on the sea such as you drive a motorcycle in the land. You can not drive by yourself from beach to the middle of sea because there are many other boats and water activity around sea spots. so you will be accompanied by a instructor to the middle and then you can drive jet ski by yourself and accompanied by instructor. Duration of this activity is about 15 minutes. Please try to crashing waves to feel a sensation of driving jet ski.
BANANA BOAT
With using a single rubber boat, you will be attracted by speed boat around the coast within 15 minutes. Banana boat load capacity is a maximum of 4 people and 1 instructor as a companion. You can ask pushed into the water during the boat running, or if you do not want to wet and then you can request by normal. Look like not exciting if you play banana boat without jump into water.
FLYING FISH
Flying Fish is the most recent game in Watersport Tanjung Benoa Bali. 3 pieces of banana boat put together with additional rubber boat across the front and there is a kind of right beside left wing. Flying Fish is played by 3 people max, ie 2 passengers on the right side and the left side and 1 instructor in the middle. Your position can stand as riding a motorcycle or sleep on her back. Flying Fish will be attracted by speed boat with a fairly high speed downwind path. Thus, a flying fish would fly over the water about 2 meters or more depending on wind speeds. Just like kites. For those who like a challenge, do not miss to try this game. Duration of this game is 15 minutes.
SNORKELING
Snorkeling is swimming underwater while seeing the sights. The main requirement you should be able to swim. By using a mask and fins, you will see ornamental fish and coral reefs while swimming. Duration of this game is 1 hour.
SCUBA DIVING
Scuba Diving More than just good snorkeling. You will be given complete diving equipment, ranging from clothing, etc. oxygen tank. Diving should not be swimming, it is better if you can not swim, because it's easier. The tourists will be accompanied by an instructor in the water, so no need to worry. Previously, you would first be brief about the ways the true dive. The depth for beginners ranging between 3 feet – 7 feet in water for 40 minutes. For carrying bread fish food, you will see the beautiful underwater scenery which met by beautiful coral reefs and brightly colored ornamental fish.
SEAWALKER
Seawalker is a walking tour on the sea floor in Tanjung Benoa. It is the latest kind of water activities in Tanjung Benoa.
GLASS BOTTOM BOAT
Glass Bottom Boat plus tour to Turtle Island is the most suitable tour if you ask your child is still small. With the boat up the clear glass underneath there, you will be invited to sail underwater aquarium located in Tanjung Benoa. As he threw the bread out of the boat, the fish will rise and chase the food. The hundreds of colorful fish. Similarly, with beautiful views of sea coral. Once satisfied, the boat will slide into Turtle Island (Turle Island) to see the location of breeding TURTLE. Here you will see that turtleeggsarebrooded and turtle are still small, young turtles to adult turtles that are ready to be parents. Types of turtles not only one, but there are several types. In addition, at this location there are also other animals such as birds, bats, snakes, etc. They are very tame, so you can hold them to be photographed .This tour will take time about 1 hour.
MARINE SPORT PRICE LIST
| | | | |
| --- | --- | --- | --- |
| ACTIVITY | TIME | RATE PER PERSON | REMARKS |
| Parasailing | 1 round | USD 30 | Min.1 Pax |
| Banana Boat | 15 minutes | USD 20 | Min. 2 Pax |
| Jetski With Instructor | 15 minutes | USD 35 | Min 1 Pax |
| Flying Fish | 2 X fllyes | USD 35 | Min. 2 Pax |
| Wake Board | 15 Minutes | USD 35 | Min. 1 Pax |
| Parasailing Adventure | 6 Minutes | USD 65 | Min. 2 Pax |
| Donut | 15 Minutes | USD 25 | Min. 2 Pax |
| Water ski | 15 Minutes | USD 65 | Min. 1 Pax |
| Fly Board | 15 Minutes | USD 85 | Min. 1 Pax |
DOLPHIN AND FISHING
| | | | | | |
| --- | --- | --- | --- | --- | --- |
| No | Water Sport Activities | Time | Rate in Indonesian Rupiah | Rate in USD $ | Remarks |
| 1 | Dolphin Tour | 4 hours | 1.350.000/pax | 130 | Min.2 pax |
| 2 | Coral Fishing | 4 hours | 1.700.000/pax | 170 | Min.2 pax |
| 3 | Trawling Fishing | 4 hours | 1.900.000/pax | 190 | Min.2 pax |
| 4 | Jigging Fishing | 4 hours | 2.500.000/pax | 250 | Min.2 pax |
| 5 | Sunset Fishing | 3 hours | 1.550.000/pax | 150 | Min.2 pax |
SCUBA DIVING AT NUSA DUA
| | | | | | |
| --- | --- | --- | --- | --- | --- |
| No | Water Sport Activities | Time | Rate in Indonesian Rupiah | Rate in USD $ | Remarks |
| 1 | Scuba Diving | 1x Dive | 1.050.000/pax | 100 | Min.2 pax |
| 2 | Scuba Diving | 2x Dive | 1.250.000/pax | 120 | Min.2 pax |
| 3 | Sea Walker | 1x Dive | 1.050.000/pax | 100 | Min.2 pax |
Include:
All the Fishing tour inclusive : equipment, soft drink, lunch box
All activity is included insurance.
Instructure
What to wear/bring:
Comfortable outfit, sunscreen, camera, swimming costume, shirt for sun protection, cash for drinks and great spirit of holiday.
---
"Please do not hesitate to contact us if the information that we provide is not clear."